Automation Software
Flexibility
O
CTOPUS is an R&D / Pilot line dedicated tool, our main goal is to allow researchers to master all needed parameters in « manual mode » or « automatic mode ». Moreover, thanks to our clever software design, it is easy to update software, PLC I/O's, software security and hardware configuration according to customers needs.
Security
O
ne of our main concern while developing automation solutions is the security. All our process development tools contain a double stage security. First stage, Hardware Security PLC which is dedicated to security of humans and critical hardware. Second stage, Software security allowing or not users to activate valves, pumps, MFC, Power, Robot... Of course, for the sake of usability, both security stages can be disabled with administrative passwords to allow authorized personal to do maintenance.
User-friendly
O
ur automation software team developed our control software in close collaboration with end-users and researchers to fit their requirements in terms of usability, flexibility, security, easy-access for non-specialist operators (1. load your process recipe, 2. Press "Play" button, 3. wait for process to be completed). Our user interface is developed to be controlled with a touchscreen monitor which make even more comfortable the control of the different devices.
Features
Friendly Graphic User's Interface (GUI) inspired by production
equipment rather than traditional R&D equipment
Password controlled user login with different levels of access
Automatic process manager for:

multi-chambers control
multi-substrates control
multi-recipes control

Substrates tracking system
GUI allowing Manual and automated control of:

valve
pump
MFC
RF Generator
Substrate handling
etc.

Process & system data logging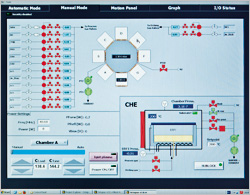 Optical Diagnostics Laser-based powder detector

Measurement of Si powder particles in the PECVD exhaust
Time-resolved or steady-state measurements
Particularly useful for microcrystalline deposition processes
Designed for harsh environments
Compact & flange-mountable

Infrared laser-based silane sensor

Direct absorption measurement of SiH4 in the infrared
Measurement in the exhaust or in the reactor of PECVD systems
Steady-state or time-resolved measurements
Determination of the SiH4 consumption efficiency,
the SiH4 concentration in the plasma, and more.
Compact & flange-mountable

Plasma emission monitoring

Control of the plasma stability
Detection of powder formation
Post-data treatment for better interpretation of optical emission
spectra
Compact & flange-mountable

Ignition detector

Optical detection of plasma ignition
High sensitivity to detect plasmas with low emission
Digital Output with adjustable threshold
Analog output of plasma intensity
Standard optic fiber connector for easy installation